Our new Porsche 718 Cayman GTS 4.0 was snowed on the first day it was put into long-term service. Heavily. The sort skiers dream of six inches of powder layered above a crust of ice from a burst of freezing rain that had hit Michigan earlier in the day. Cayman, welcome to your new home!
Why would we put such a lovely car in such terrible weather? We admire Porsches because they are practical sports vehicles that can be used on a daily basis. To put that belief to the test, we'd have to live with one of our Stuttgart favorites for a long time—we know, harsh duty—and put it through a variety of driving circumstances. On a snowy day, a Cayman owner in Los Angeles could elect to go up to Big Bear for some skiing, while a Michigander might prefer to go slip-sliding. We know that a former C/D editor-in-chief purchased a new 911 a few years ago and used it as his everyday transportation during the winter.
How to Take Care of Cayman During the Winter
So, as we do with all of our long-term test cars, we put winter tires on the Cayman when it arrived in late winter and began breaking it in. We'll keep it for long enough to log 40,000 miles in all four seasons and discover things about it that a brief visit could never convey.
We'll take it on cross-country excursions and use it to get a dozen eggs from the corner grocery. On nasty two-lanes, we'll lean on it hard. We'll take it to the dealer to have it serviced. We'll also keep track of every dollar spent on maintenance, fuel, and repairs.
Whether there's snow or not, our Cayman won't be parked for long, and for good reason: it's the perfect driver's car. For the 16th year in a row, Cayman was named to our 10Best list for its "shimmering combination of poise, grace, and tenacity."
Performance Porsche Cayman GTS 4.0
Our new Cayman arrived in fine form, ready for its stay with C/team D's of nimble drivers. It's painted in a beautifully modest Aventurine Green Metallic paint that's far preferable to arrest-me red. After all, this is the GTS 4.0, which means "racy" in Porsche lingo. It's driven by a 4.0-liter naturally aspirated flat-six engine that produces 394 horsepower at 7000 rpm and 309 pound-feet of torque at 5000 rpm.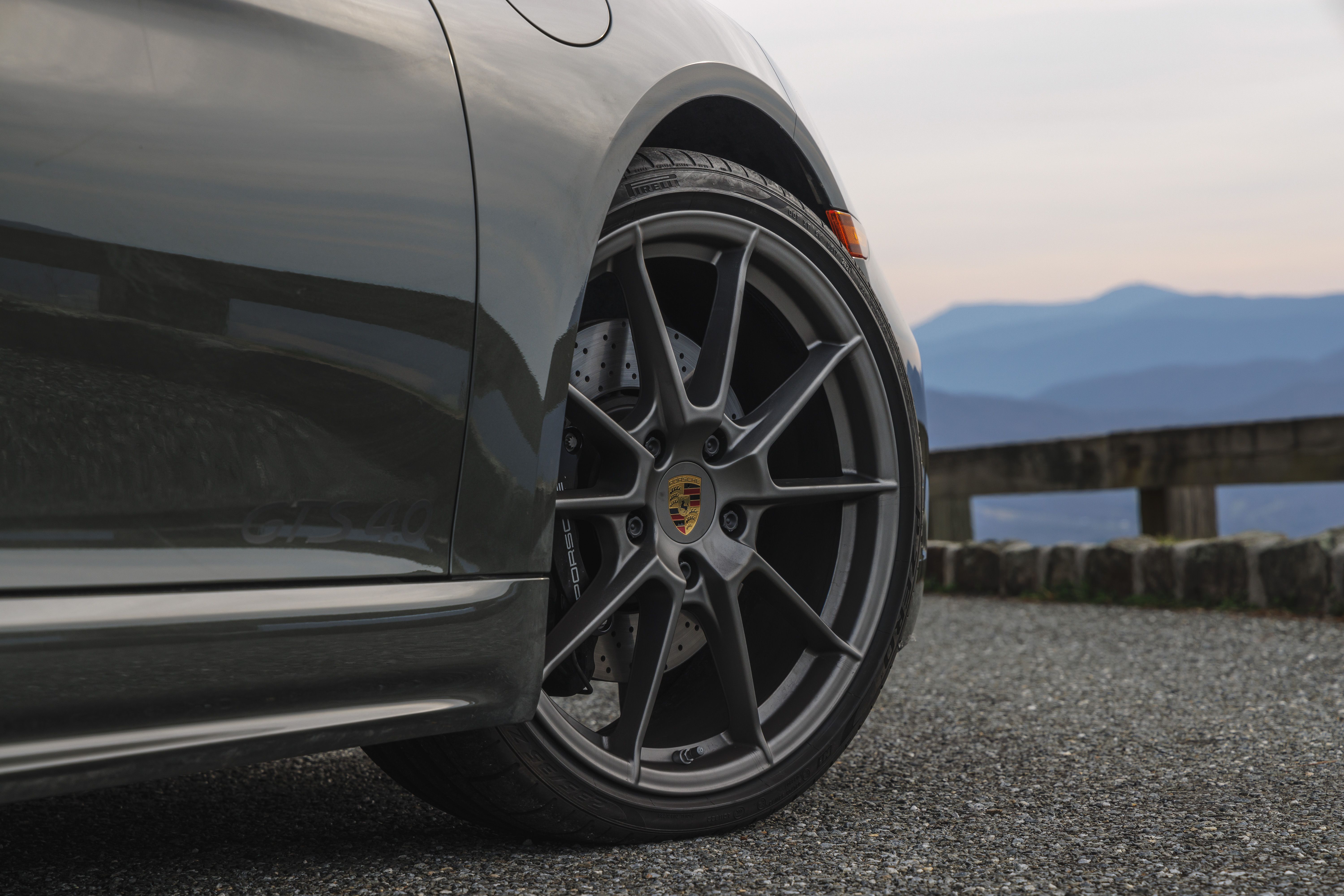 You're right if that power curve looks peaky. As the revs rush to the 7800-rpm redline, this motor receives a strong shot of caffeine at around 4000 rpm—typical behavior for an unboosted Porsche engine—and it fills the tiny cockpit with a wonderful baritone howl.
As if we needed another reason to speed up. Of course, we went with the six-speed manual transmission, and the stubby shifter operates with precision and delicacy through the Cayman's carefully spaced gates.
Yes, Porsche's excellent seven-speed dual-clutch automatic would shave a few tenths of a second off acceleration times, but our manual-equipped long-initial termer's instrumented testing (conducted after easing it through its 2000-mile break-in period) proved that it's sufficiently swift. It's not the easiest car to launch—it doesn't look like the clutch slipped off the line—but it still managed a 3.9-second sprint to 60 mph and a 12.1-second quarter-mile run at 118 mph. It also circled our skidpad at 1.03 g's and came to a halt in 145 feet from 70 mph. For a Porsche with a window sticker of $99,070, that's a respectable performance.
Ninety-nine grand is a lot of money, and our long-termer isn't even close to being ready for a Porsche. The extras on our test car (base price: $88,750) total $10,320, which is a smattering by Porsche standards. The distinctive green paint ($650), rich Espresso leather on most interior surfaces ($3680), and ventilated seats ($740) are all on the list. A Bose Surround Sound audio system ($900), brushed aluminum interior trim ($900), and gloss-black brake calipers ($900) were also fitted. Wait a minute: 900 dollars for simple black brake calipers? This is, without a doubt, a Porsche. At the very least, Porsche Active Suspension Management (PASM) is standard, as are Pirelli P Zero PZ4 summer tires in sizes 235/35ZR-20 up front and 265/35ZR-20 in the rear.
Conclusion
So now it's time to drive, a total of 40K miles. Every time we step behind the three-spoke steering wheel, we expect to be enthralled by the Cayman's beautifully intuitive handling, quick, powerful brakes, and gutsy flat-six.
What we can't be sure of, but hope to learn, is if that unique driving personality is matched by a same level of dependability in every season and situation. We'll keep you updated on how the Cayman's stress test is progressing every 10,000 miles or so.